LATEST COLLECTION
MERRY + BRIGHT
My final collection for 2022 has just been released and I couldn't be happier! The Merry + Bright collection signifies a time to celebrate and come together with loved ones.
The colours used in this body of work are intended to lift the spirit and bring a sense of fun and joy to your surroundings. I also wanted to end the year on a bright positive note!
I have just 10 paintings in this collection in a few sizes ranging from medium right up to a large statement diptych that spans 2.5 metres when hung together. 
These are the last few pieces I will be releasing this year before I take an extended summer holiday and visit family and friends in New Zealand.
Shop the MERRY + BRIGHT collection now!!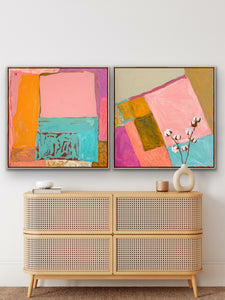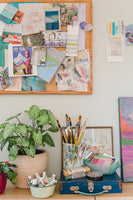 hello there...
Art is a crucial aspect to how I see, interact and communicate with the world. My process is at times deliberate and methodical and at other times playful and spontaneous. This duality of exploring opposites has always been central to my art practice.
I work towards creating tension and balance in each work. This process generally involves creating detailed base layers before building up opaque and transparent top layers to both reveal and conceal my visual imagery.
I am fascinated by colour and the infinite possibilities it allows. I also explore colour relationships and the use of colour to trigger emotion and memory through my work.
read more
instagram @jackieanderson_art